Regular price
Sale price
$35.00 USD
Unit price
per
Sale
Sold out
Embrace your inner sarcasm and showcase your wit with our "Adulting with Sass" gift set. This clever set includes a matching tumbler and phone case, both adorned with sarcastic sayings. Whether you're sipping your favorite beverage or texting with attitude, this set is perfect for those who appreciate a good dose of sarcasm in their daily lives. With a touch of style and a sprinkle of humor, this gift set is ideal for sarcastic adults who embrace their unique sense of humor. Treat yourself or gift it to someone who shares your love for witty banter. Level up your adulting game with our "Adulting with Sass" collection.

To ensure the longevity and quality of your tumbler and matching phone case, please follow these care instructions:

1. Tumbler Cleaning: Hand wash the tumbler with warm water and mild dish soap. Avoid using abrasive cleaners or scrub brushes that may damage the design. Do not soak or place it in the dishwasher, as it may affect the artwork or insulation.

2. Phone Case Cleaning: Wipe the phone case with a soft, damp cloth to remove any dirt or smudges. Avoid using harsh chemicals or solvents that may damage the design or material.

3. Tumbler Usage: Do not use the tumbler in the microwave, freezer, or for carbonated beverages. It is designed for cold or hot drinks, and extreme temperatures may affect the insulation or integrity of the tumbler.

4. Phone Case Protection: Handle the phone case with care to avoid drops or impacts that could damage your phone. Keep it away from sharp objects and excessive heat or moisture.

5. Storage: When not in use, store the tumbler and phone case in a clean and dry place, away from direct sunlight or extreme temperatures.

By following these care instructions, you can enjoy your Dog Mama tumbler and matching phone case for a long time and keep them looking stylish and functional.
Materials

Removable Matte Sticker Paper
Shipping & Returns

Shipping is 1-3 business days.

Returns are not accepted due to the nature of the product, however I will work with you to find the perfect solution!
Dimensions

Sticker sheets are 5"x7".
Share
View full details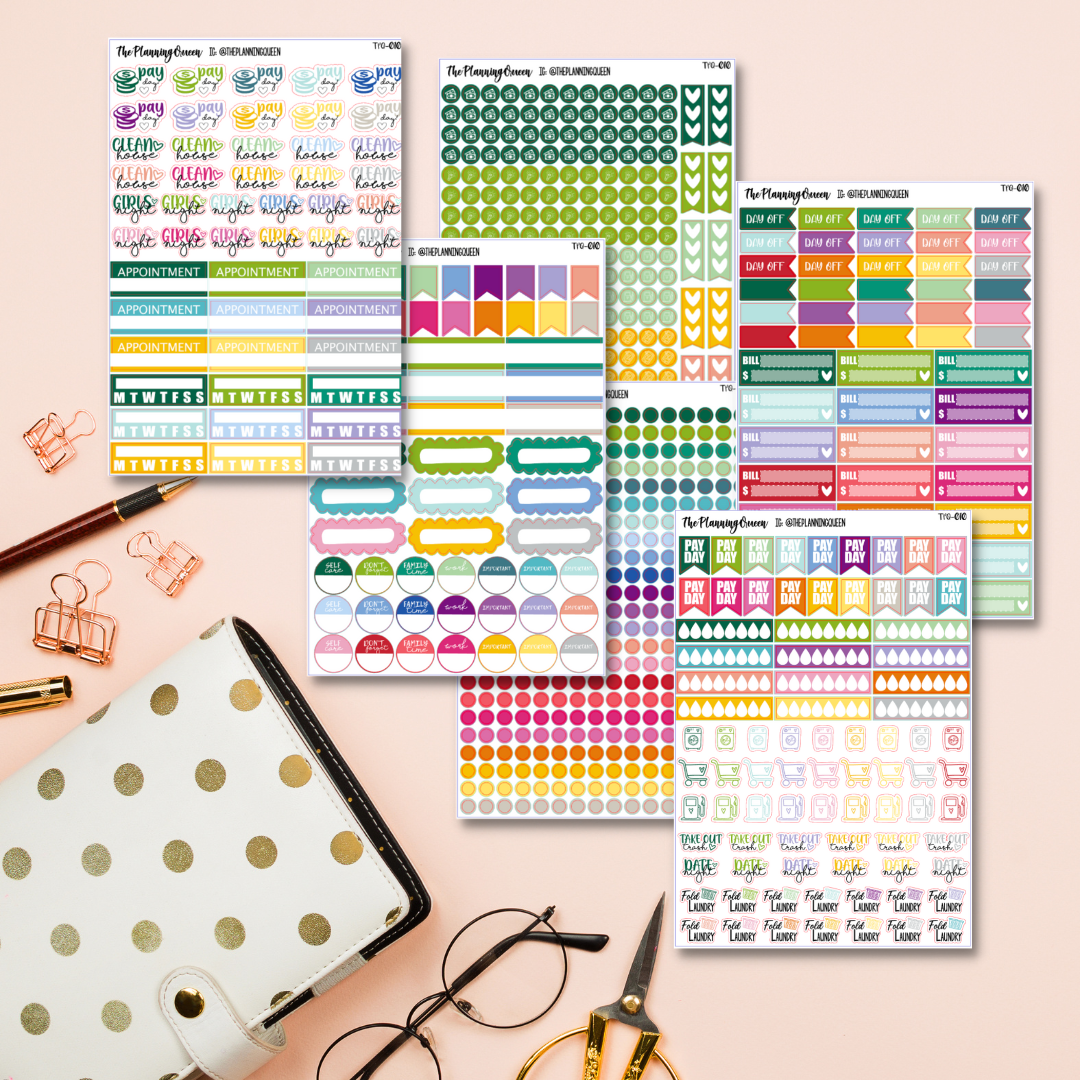 Perfect stickers for your planner.
With multiple 5 star ratings on Amazon these stickers are sure to please!
Free Shipping on Orders of $20 or more for US and $50 or more international.

Use code "Free20" at checkout for US orders.

Use code "Free50" at checkout for international orders.

Return Policy

Due to the nature of the product we do not allow returns however if you email tplanningqllc@gmail.com with pictures and any questions or concerns I will be happy to work with you and find the perfect solution.