Appointment Label Stickers, Appointment setting stickers, Busy schedule, Planner organization stickers, Planner Stickers, Functional Planner Stickers, 78 Stickers, 1.5" in length, Multicolor
Appointment Label Stickers, Appointment setting stickers, Busy schedule, Planner organization stickers, Planner Stickers, Functional Planner Stickers, 78 Stickers, 1.5" in length, Multicolor
Regular price
Sale price
$5.99 USD
Unit price
per
Sale
Sold out
**Stay Organized with Our Appointment Label Planner Stickers Set** Elevate your planning game with our meticulously crafted Appointment Label Planner Stickers! Designed to help you stay on top of your busy schedule and manage your time effectively, these stickers are the perfect addition to your planner or calendar. **Key Features:** 🗓️ **Never Miss an Appointment:** Our stickers are specially designed to make your important appointments and events stand out. With eye-catching designs and vibrant colors, you'll easily spot your commitments at a glance. ⏰ **Time Management Made Easy:** Keep track of your time like a pro! Our stickers include time slots and markers to help you allocate your day efficiently, ensuring you make the most of every moment. 📅 **Versatile Planning:** Whether you're a daily, weekly, or monthly planner enthusiast, our stickers fit seamlessly into various layouts. From hourly breakdowns to overall event markers, we've got you covered. 🔖 **Organize Your Priorities:** Use our stickers to prioritize tasks and activities. Highlight urgent appointments, important meetings, and personal engagements with ease, so you're always in control. 🎨 **Quality Designs:** Each sticker is thoughtfully designed with aesthetics in mind. Express your personal style while staying organized – our stickers add a touch of flair to your planner pages. 📌 **Easy to Use:** Applying our stickers is a breeze. Just peel, stick, and enjoy an instantly organized schedule. No fuss, no mess – pure planning bliss. **How to Use:** 1. **Peel:** Gently lift the sticker from the sheet. 2. **Stick:** Place the sticker on your planner, calendar, or agenda page. 3. **Enjoy:** Watch your schedule come to life with beautifully organized appointments and events. **Specifications:** - Each set includes 78 stickers in various designs and sizes. - High-quality adhesive ensures the stickers stay in place. - Durable materials that resist wear and tear.
Materials

Removable Matte Sticker Paper
Shipping & Returns

Shipping is 1-3 business days.

Returns are not accepted due to the nature of the product, however I will work with you to find the perfect solution!
Dimensions

Sticker sheets are 5"x7".
Share
View full details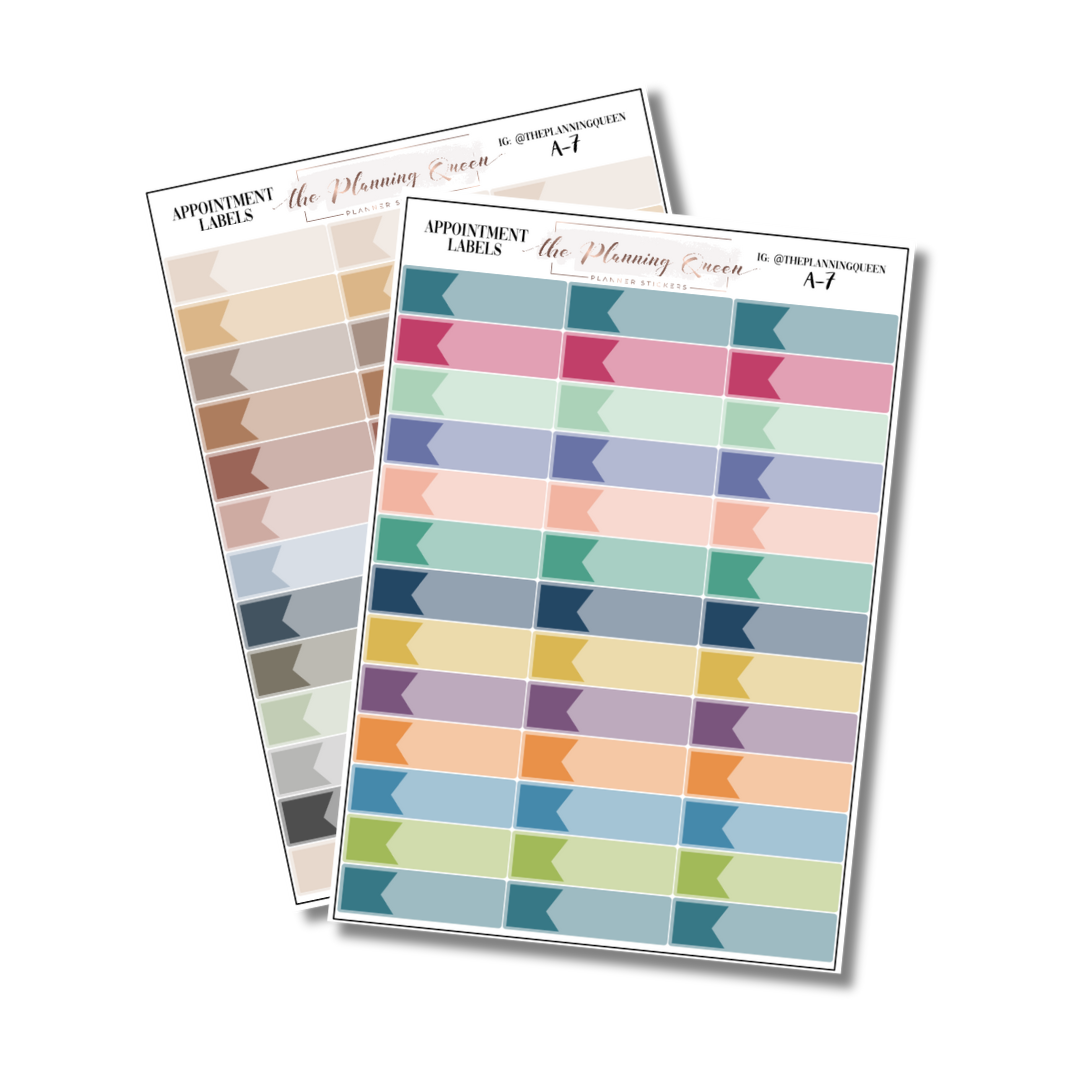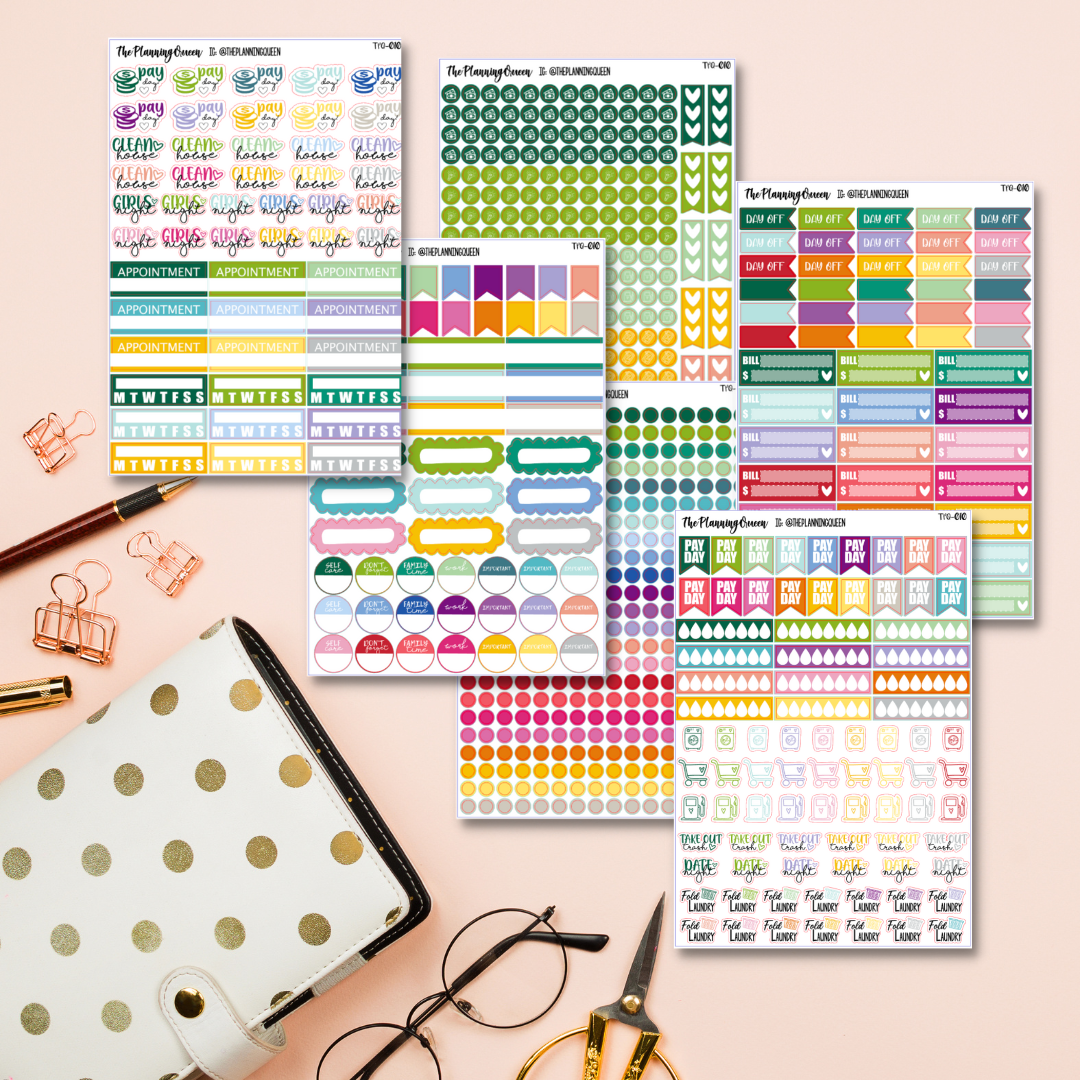 Perfect stickers for your planner.
With multiple 5 star ratings on Amazon these stickers are sure to please!
Free Shipping on Orders of $20 or more for US and $50 or more international.

Use code "Free20" at checkout for US orders.

Use code "Free50" at checkout for international orders.

Return Policy

Due to the nature of the product we do not allow returns however if you email tplanningqllc@gmail.com with pictures and any questions or concerns I will be happy to work with you and find the perfect solution.