Bill Due Tracking Stickers, Bill Due Stickers, Budgeting, Budgeting Stickers, Functional Stickers, Monthly bill tracking, weekly bill tracking, 60 Stickers, 1.5" in length, Multicolor
Bill Due Tracking Stickers, Bill Due Stickers, Budgeting, Budgeting Stickers, Functional Stickers, Monthly bill tracking, weekly bill tracking, 60 Stickers, 1.5" in length, Multicolor
Regular price
Sale price
$5.99 USD
Unit price
per
Sale
Sold out
Introducing our comprehensive set of 60 Bill Due Tracking Planner Stickers, designed to help you effortlessly organize and manage your financial commitments in style. This set includes two sheets of stickers, thoughtfully curated to cater to different preferences and aesthetics – one in neutral tones and the other bursting with vibrant multicolor options. **Neutral Elegance Sheet:** Stay organized with a touch of sophistication using the neutral color palette of our Bill Due Tracking stickers. These stickers feature soft grays, soothing beiges, and subtle earth tones that seamlessly blend into any planner or journal. Each sticker is carefully designed to provide a clean and minimalist look, making them perfect for those who prefer a classic and refined organizational style. Highlight important due dates, track payment amounts, and keep a clear visual record of your financial obligations with these understated yet essential stickers. **Vibrant Multicolor Sheet:** Add a pop of energy and excitement to your planning routine with our Multicolor Bill Due Tracking stickers. This sheet showcases a lively assortment of shades ranging from bright blues and vivid reds to cheerful yellows and playful greens. These stickers are perfect for individuals who thrive on visual stimulation and enjoy incorporating vibrant elements into their planning. Transform the task of tracking bill due dates into a creative endeavor by mixing and matching these stickers to create eye-catching arrangements that demand attention. Regardless of your personal style, our Bill Due Tracking Planner Stickers are designed to enhance your planning experience by providing an intuitive and visually engaging way to manage your financial commitments. Crafted with high-quality materials, these stickers are easy to peel and stick, ensuring a seamless integration into your planner, buju or notebook.
Materials

Removable Matte Sticker Paper
Shipping & Returns

Shipping is 1-3 business days.

Returns are not accepted due to the nature of the product, however I will work with you to find the perfect solution!
Dimensions

Sticker sheets are 5"x7".
Share
View full details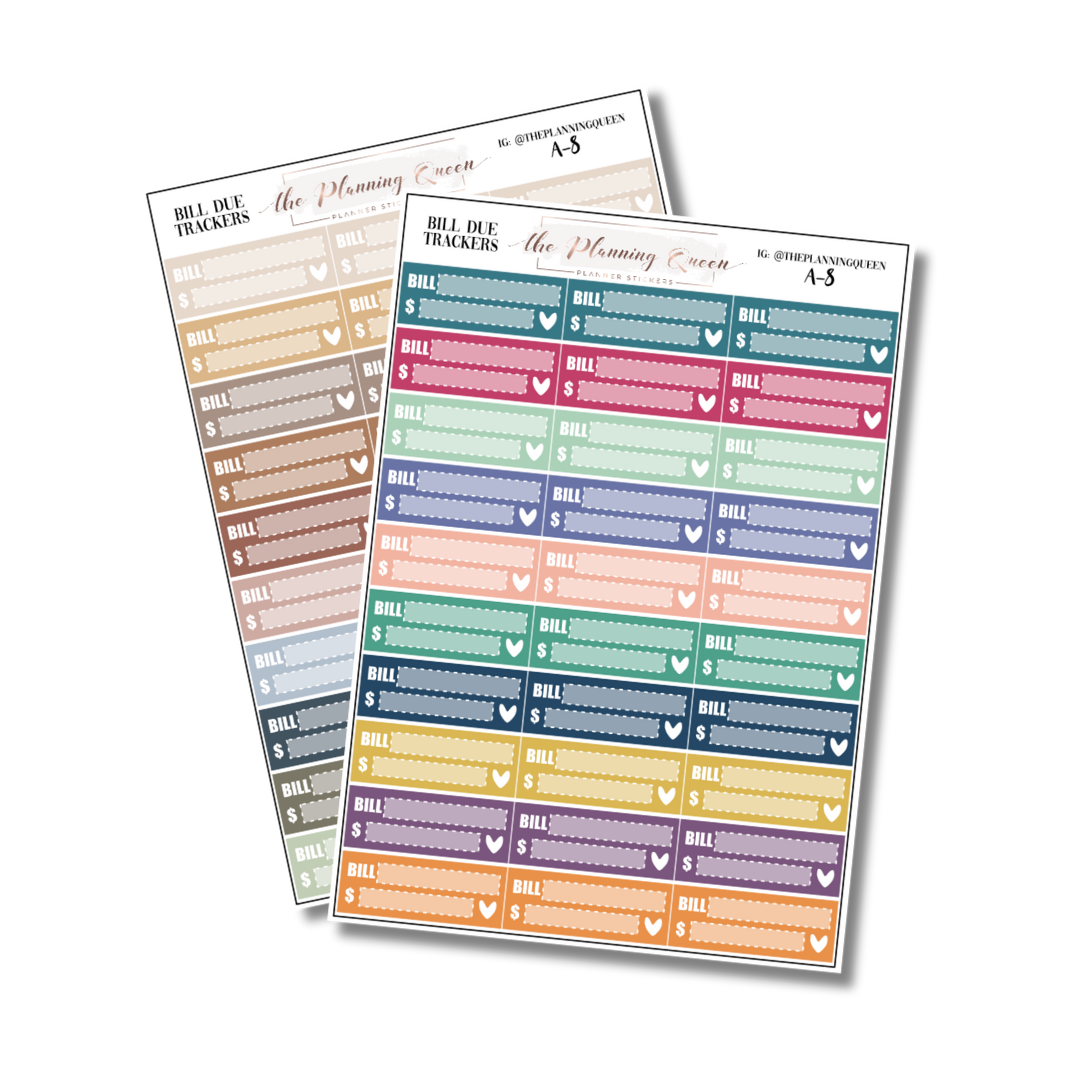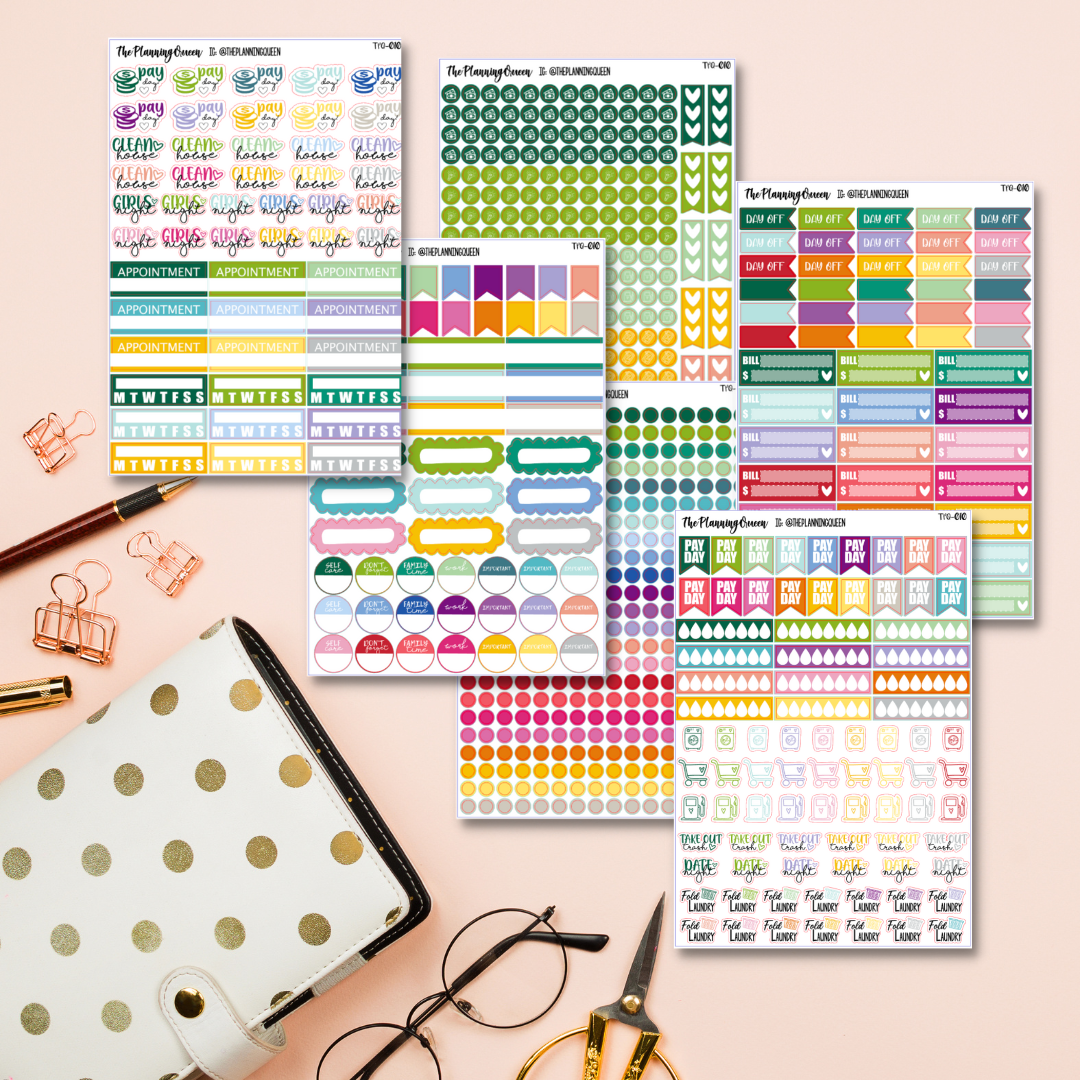 Perfect stickers for your planner.
With multiple 5 star ratings on Amazon these stickers are sure to please!
Free Shipping on Orders of $20 or more for US and $50 or more international.

Use code "Free20" at checkout for US orders.

Use code "Free50" at checkout for international orders.

Return Policy

Due to the nature of the product we do not allow returns however if you email tplanningqllc@gmail.com with pictures and any questions or concerns I will be happy to work with you and find the perfect solution.