Birthday tracking stickers for planners, Birthday Stickers, Colorful Birthday Stickers, Birthday Reminder Stickers, Birthday Party Stickers, Calendar Stickers for Adults, 66 Stickers
Birthday tracking stickers for planners, Birthday Stickers, Colorful Birthday Stickers, Birthday Reminder Stickers, Birthday Party Stickers, Calendar Stickers for Adults, 66 Stickers
Regular price
Sale price
$5.99 USD
Unit price
per
Sale
Sold out
Keep your special occasions organized and never miss a birthday celebration again with our Birthday Tracker Sticker Set! This delightful set includes a total of 66 stickers spread across two pages, offering both a neutral and a colorful option to suit your planner's aesthetic. Whether you're a minimalist enthusiast or a fan of vibrant designs, this sticker set has got you covered. **Neutral Page:** On the neutral page, you'll find a collection of sleek and understated stickers that seamlessly blend with any planner layout. Each sticker is thoughtfully crafted to provide a clean and elegant look, making it perfect for those who prefer a more refined aesthetic. The neutral page includes monthly headers with dedicated spaces to mark down upcoming birthdays, ensuring that you're always prepared to celebrate with your loved ones. **Colorful Page:** For those who love a pop of color and vibrancy in their planner, the colorful page is a treat for the eyes! Bursting with a spectrum of hues, these stickers add a touch of playfulness and excitement to your planning routine. Each sticker features a unique design, from whimsical balloons to charming cake slices, providing a fun and engaging way to keep track of birthdays and special events. **Features:** - Total of 66 stickers across two pages - Neutral page for a clean and minimalist look - Colorful page for a vibrant and lively aesthetic - Monthly headers for easy organization - Assorted designs including cakes, balloons, candles, and more - High-quality adhesive that sticks well to various paper types - Durable material that resists wear and tear With our Birthday Tracker Sticker Set, staying on top of birthdays has never been more enjoyable. Whether you're a planner aficionado, a busy professional, or simply someone who loves to celebrate, these stickers add a touch of organization and creativity to your life. Say goodbye to missed birthdays and hello to beautifully planned celebrations with this versatile sticker set.
Materials

Removable Matte Sticker Paper
Shipping & Returns

Shipping is 1-3 business days.

Returns are not accepted due to the nature of the product, however I will work with you to find the perfect solution!
Dimensions

Sticker sheets are 5"x7".
Share
View full details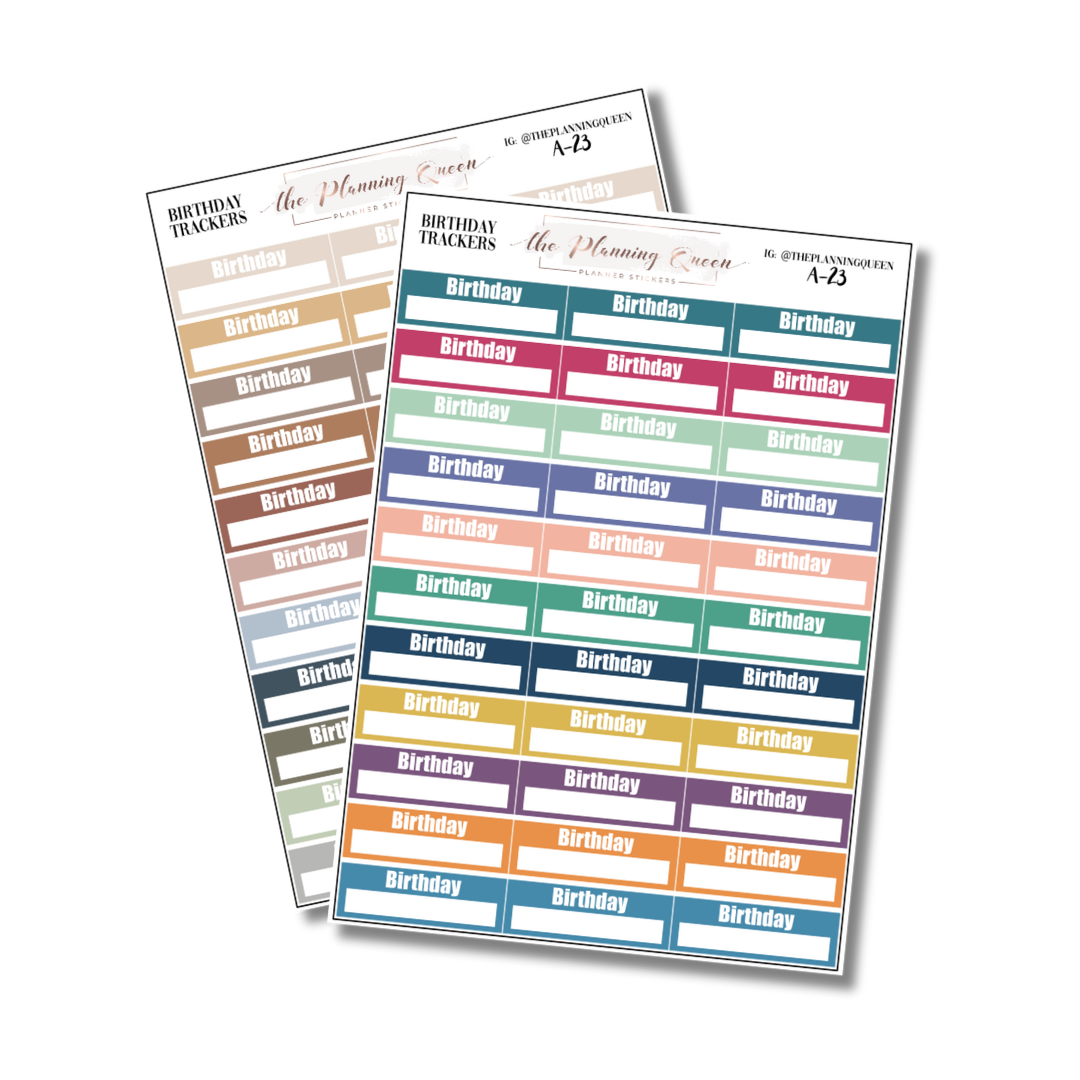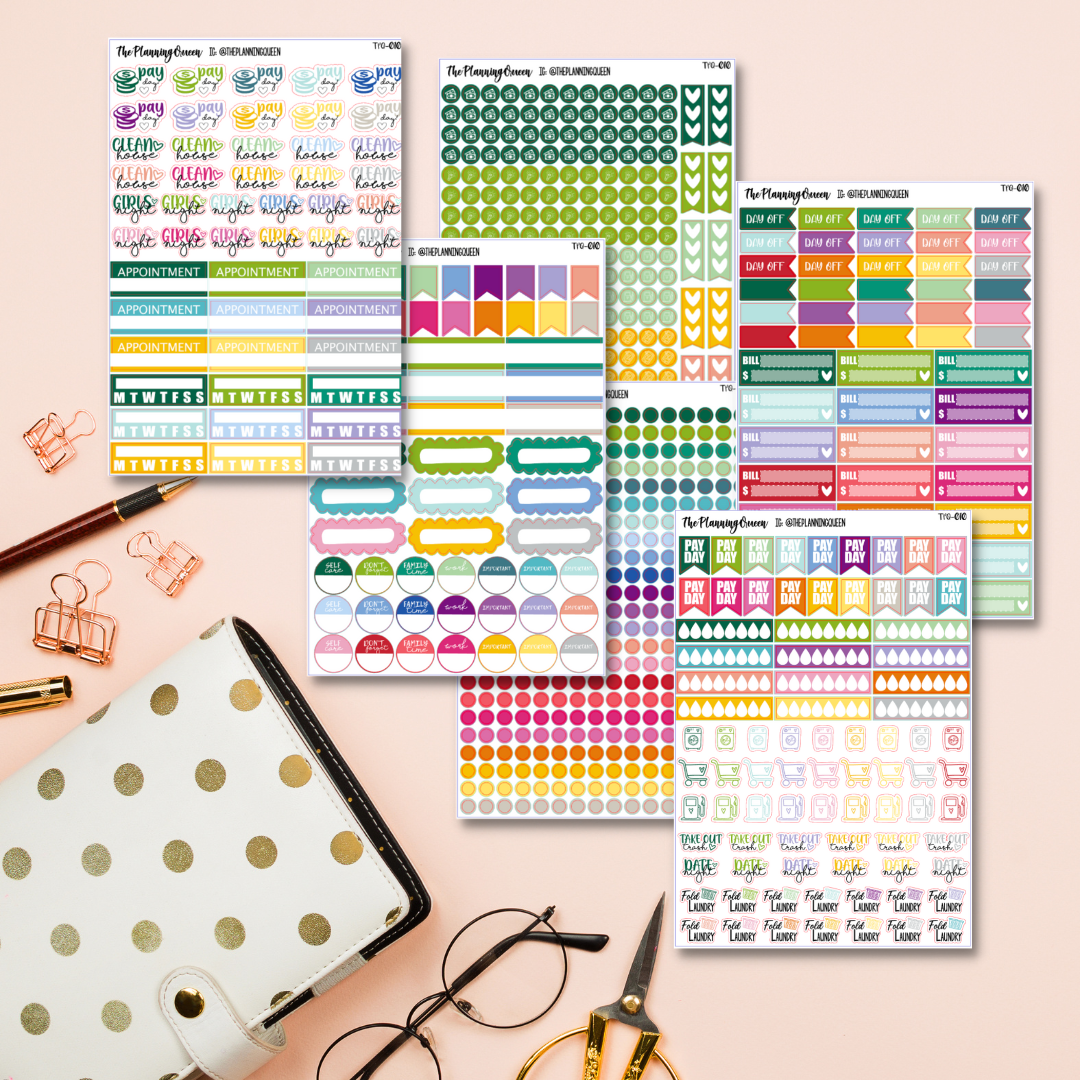 Perfect stickers for your planner.
With multiple 5 star ratings on Amazon these stickers are sure to please!
Free Shipping on Orders of $20 or more for US and $50 or more international.

Use code "Free20" at checkout for US orders.

Use code "Free50" at checkout for international orders.

Return Policy

Due to the nature of the product we do not allow returns however if you email tplanningqllc@gmail.com with pictures and any questions or concerns I will be happy to work with you and find the perfect solution.