Coffee cup icon planner stickers, multicolor icon stickers, 384 stickers 0.3" in diameter, MINI icon stickers, But first COFFEE, Drink icon stickers, Coffee date stickers, stickers for calendar
Coffee cup icon planner stickers, multicolor icon stickers, 384 stickers 0.3" in diameter, MINI icon stickers, But first COFFEE, Drink icon stickers, Coffee date stickers, stickers for calendar
Regular price
Sale price
$5.99 USD
Unit price
per
Sale
Sold out
Introducing our Coffee Cup Icon Planner Stickers Set – a delightful and functional addition to your planning and organization arsenal. This set includes a total of 384 meticulously crafted stickers, arranged across two sheets, each catering to your diverse moods and preferences. **Colorful Sheet:** Unleash your creative spirit with the vibrant and energetic Colorful Sheet. Bursting with a spectrum of eye-catching hues, this sheet features an array of coffee cup icons that are perfect for highlighting your coffee breaks, study sessions, or social gatherings. Whether you're a fan of frothy lattes, bold espressos, or soothing herbal teas, these stickers capture the essence of your preferred brew in a playful and vivid manner. Let your plans and appointments take on a lively touch as you accentuate them with these lively coffee cup icons. **Neutral Sheet:** For those who prefer a more understated approach, our Neutral Sheet is designed to seamlessly blend into any planner layout or theme. With a subdued color palette and elegant design, these coffee cup icons exude a timeless charm. Whether you're a fan of classic black coffee or soothing herbal infusions, these stickers add a touch of sophistication to your daily plans. Let the neutral sheet harmoniously complement your planner's aesthetic while still providing the functionality you need to organize your time effectively. Each sticker in this set is crafted with attention to detail, ensuring clarity and readability. These coffee cup icons can signify your moments of relaxation, social interaction, or focused work, allowing you to visually track your daily activities with ease. Whether you're an avid coffee enthusiast or simply appreciate the aesthetic appeal of these icons, our Coffee Cup Icon Planner Stickers Set is an excellent tool to enhance your planning experience. Organize your life in style with these stickers that combine practicality with charm.
Materials

Removable Matte Sticker Paper
Shipping & Returns

Shipping is 1-3 business days.

Returns are not accepted due to the nature of the product, however I will work with you to find the perfect solution!
Dimensions

Sticker sheets are 5"x7".
Share
View full details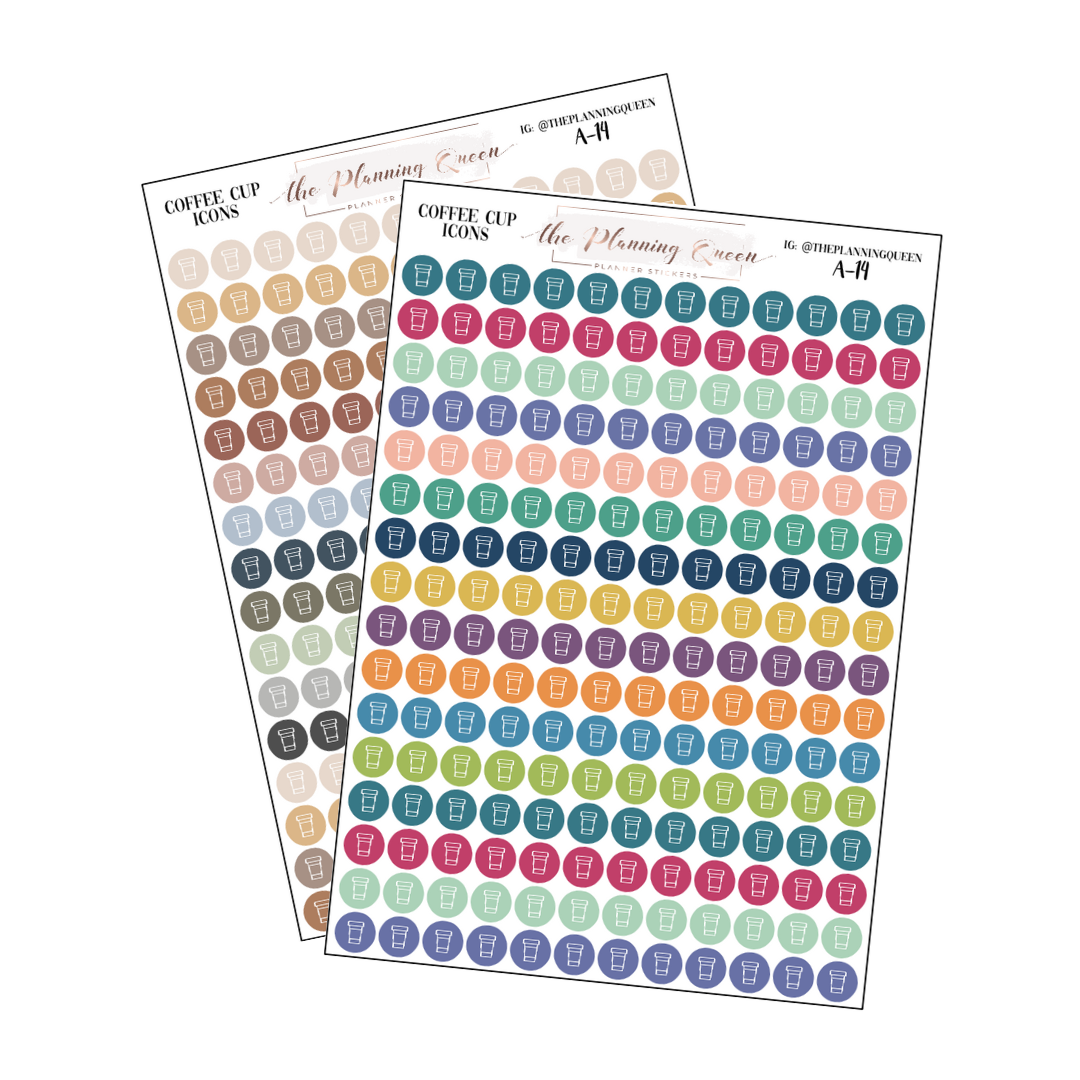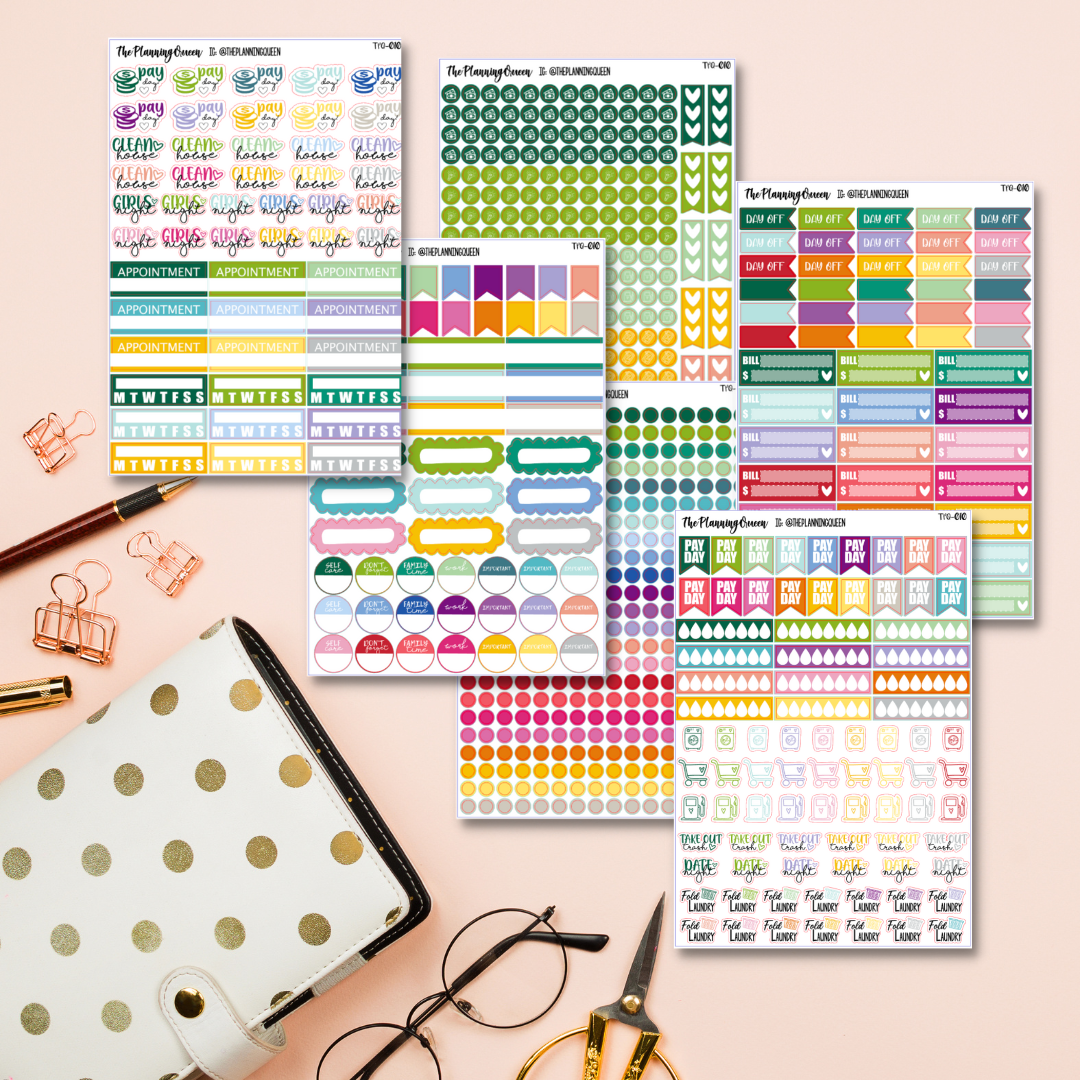 Perfect stickers for your planner.
With multiple 5 star ratings on Amazon these stickers are sure to please!
Free Shipping on Orders of $20 or more for US and $50 or more international.

Use code "Free20" at checkout for US orders.

Use code "Free50" at checkout for international orders.

Return Policy

Due to the nature of the product we do not allow returns however if you email tplanningqllc@gmail.com with pictures and any questions or concerns I will be happy to work with you and find the perfect solution.