Happy Mail Icons, Icon Stickers for Incoming or Outgoing Mail, Delivery Icon Stickers, Sticker order tracking sticker, Planner stickers for Snail Mail, 0.3" diameter, 416 happy mail icon stickers
Happy Mail Icons, Icon Stickers for Incoming or Outgoing Mail, Delivery Icon Stickers, Sticker order tracking sticker, Planner stickers for Snail Mail, 0.3" diameter, 416 happy mail icon stickers
Regular price
Sale price
$5.99 USD
Unit price
per
Sale
Sold out
Introducing the "Happy Mail Planner Sticker Icons" collection – a delightful assortment of 416 stickers thoughtfully designed to infuse joy and organization into your daily planning endeavors. This set comes in two pages, each catering to your unique aesthetic preferences: one bursting with vibrant colors and the other exuding understated elegance in neutral tones. Embrace the art of planning with these meticulously crafted stickers that are as functional as they are charming. Each icon is a miniature work of art, capturing the essence of various activities, events, and reminders that color your life. From birthdays and appointments to holidays and self-care moments, these stickers help you map out your days in an engaging and visually appealing manner. The colorful page is a burst of energy, featuring a kaleidoscope of hues that mirror the vivacity of your life. Vibrant florals, whimsical balloons, and cheerful icons bring an instant smile to your face as you mark down important occasions and to-dos. Let your creative spirit run free as you arrange these stickers to form a visual narrative of your upcoming adventures. For those who appreciate a more serene and sophisticated ambiance, the neutral page offers a refined selection of stickers in soft shades. Elegant icons, delicate motifs, and graceful typography create a sense of calm and organization. These stickers seamlessly blend into any planner layout, offering a seamless and polished look that complements your refined taste. Both pages of stickers are expertly crafted from high-quality materials, ensuring easy peel-and-stick application without leaving residue. The collection comes in a compact and convenient format, making it a perfect companion for your planner, journal, or even on-the-go notebooks. Elevate your planning experience and transform your schedule into a canvas of happiness with the "Happy Mail Planner Sticker Icons" collection.
Materials

Removable Matte Sticker Paper
Shipping & Returns

Shipping is 1-3 business days.

Returns are not accepted due to the nature of the product, however I will work with you to find the perfect solution!
Dimensions

Sticker sheets are 5"x7".
Share
View full details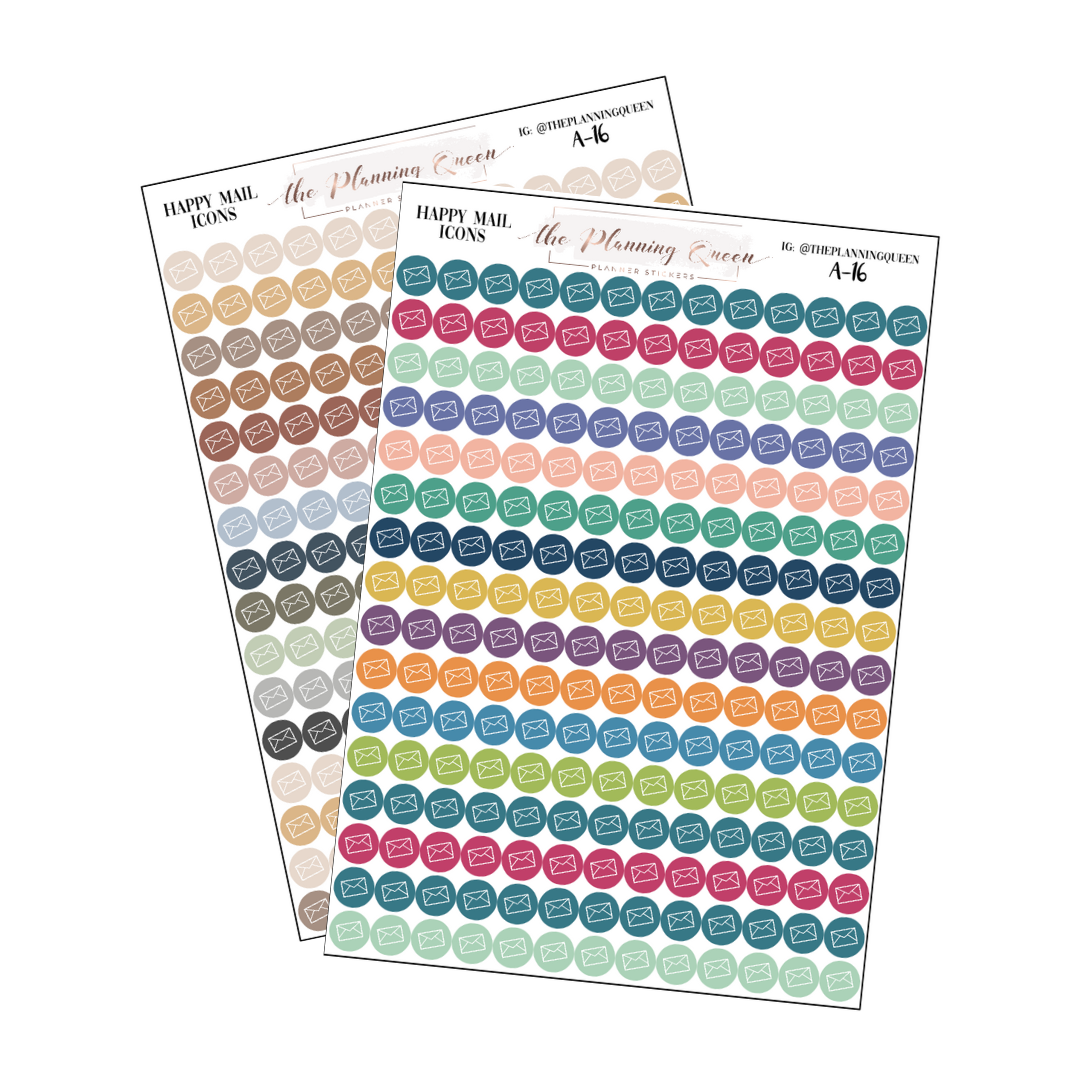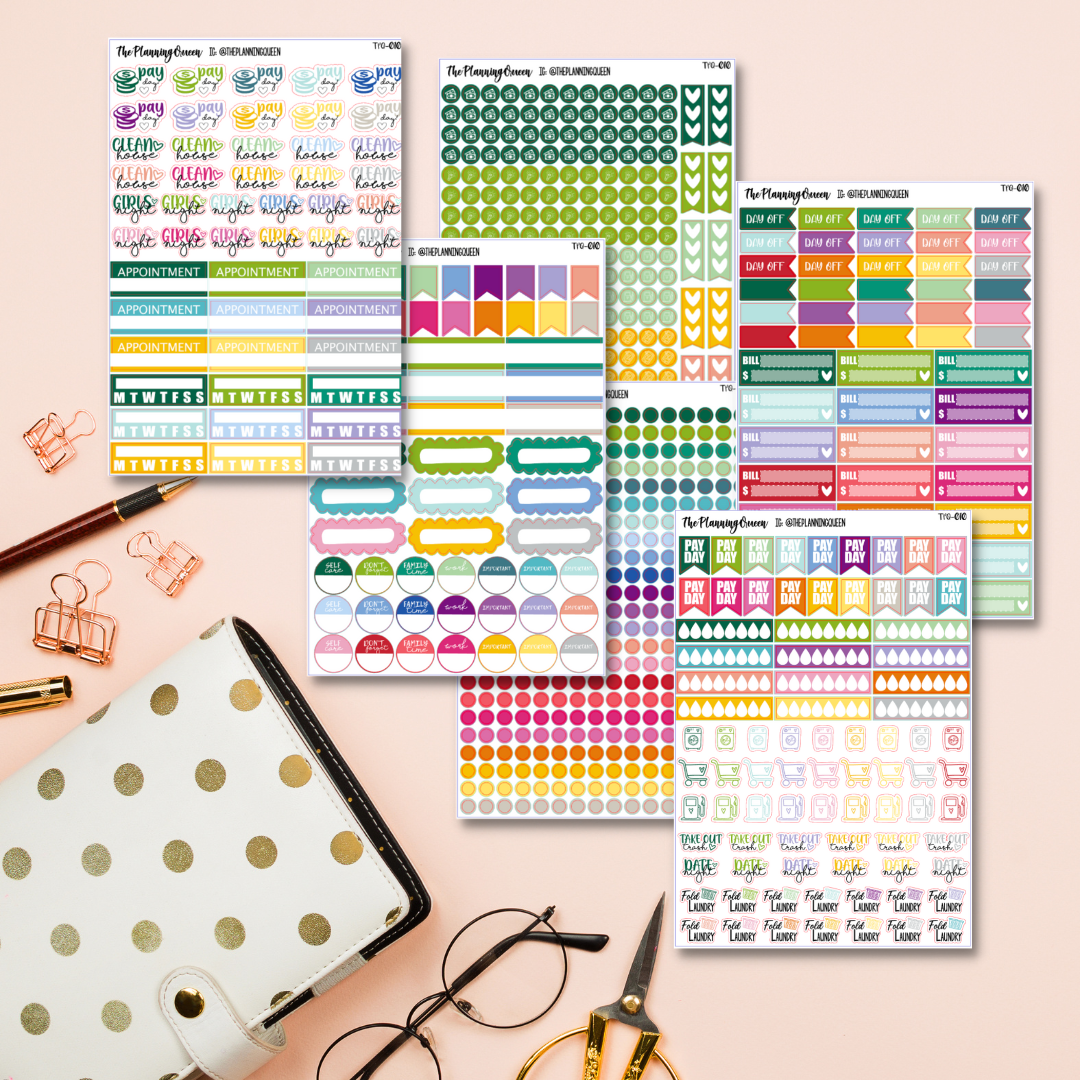 Perfect stickers for your planner.
With multiple 5 star ratings on Amazon these stickers are sure to please!
Free Shipping on Orders of $20 or more for US and $50 or more international.

Use code "Free20" at checkout for US orders.

Use code "Free50" at checkout for international orders.

Return Policy

Due to the nature of the product we do not allow returns however if you email tplanningqllc@gmail.com with pictures and any questions or concerns I will be happy to work with you and find the perfect solution.