Location Marker Icon Planner Stickers and Labels, Map Planner Stickers, Travel Stickers, Location Work Stickers, GPS Pointer Mark Stickers, Geotag Stickers, 0.3" diameter, 416 stickers total
Location Marker Icon Planner Stickers and Labels, Map Planner Stickers, Travel Stickers, Location Work Stickers, GPS Pointer Mark Stickers, Geotag Stickers, 0.3" diameter, 416 stickers total
Regular price
Sale price
$5.99 USD
Unit price
per
Sale
Sold out
Introducing the Geotag Planner Sticker Icon Set – your ultimate companion for adding a touch of visual delight and functionality to your planning and organization endeavors. This meticulously crafted collection features a total of 416 vibrant and versatile stickers across two pages, ensuring that every milestone, task, and event is beautifully highlighted and effortlessly managed. **Page 1: Neutral Elegance** Embrace the minimalist charm of the first page, where a palette of soothing neutrals combines with clean, elegant designs to lend a touch of sophistication to your planner. Whether you're a professional seeking seamless organization or a creative soul aiming for a refined look, this page offers a wide array of stickers that seamlessly blend into any setting. From classic geotags indicating locations to subtle checkboxes for task tracking, this page provides the essential building blocks for your planning journey. **Page 2: Colorful Vibrance** Unleash your creativity and infuse your planner with a burst of energy using the second page of the Geotag Planner Sticker Icon Set. With an explosion of vibrant colors and playful designs, this page transforms planning into a joyful experience. Whether you're a student, an entrepreneur, or a parent, these stickers will make your planner a true reflection of your dynamic life. With the Geotag Planner Sticker Icon Set, planning becomes an artful journey that combines practical organization with a personalized touch. Whether you prefer the understated elegance of the neutral page or the vibrant dynamism of the colorful page, these stickers elevate your planner into a masterpiece of both function and aesthetics. Unleash your inner planner extraordinaire and bring your every goal, event, and adventure to life on paper.
Materials

Removable Matte Sticker Paper
Shipping & Returns

Shipping is 1-3 business days.

Returns are not accepted due to the nature of the product, however I will work with you to find the perfect solution!
Dimensions

Sticker sheets are 5"x7".
Share
View full details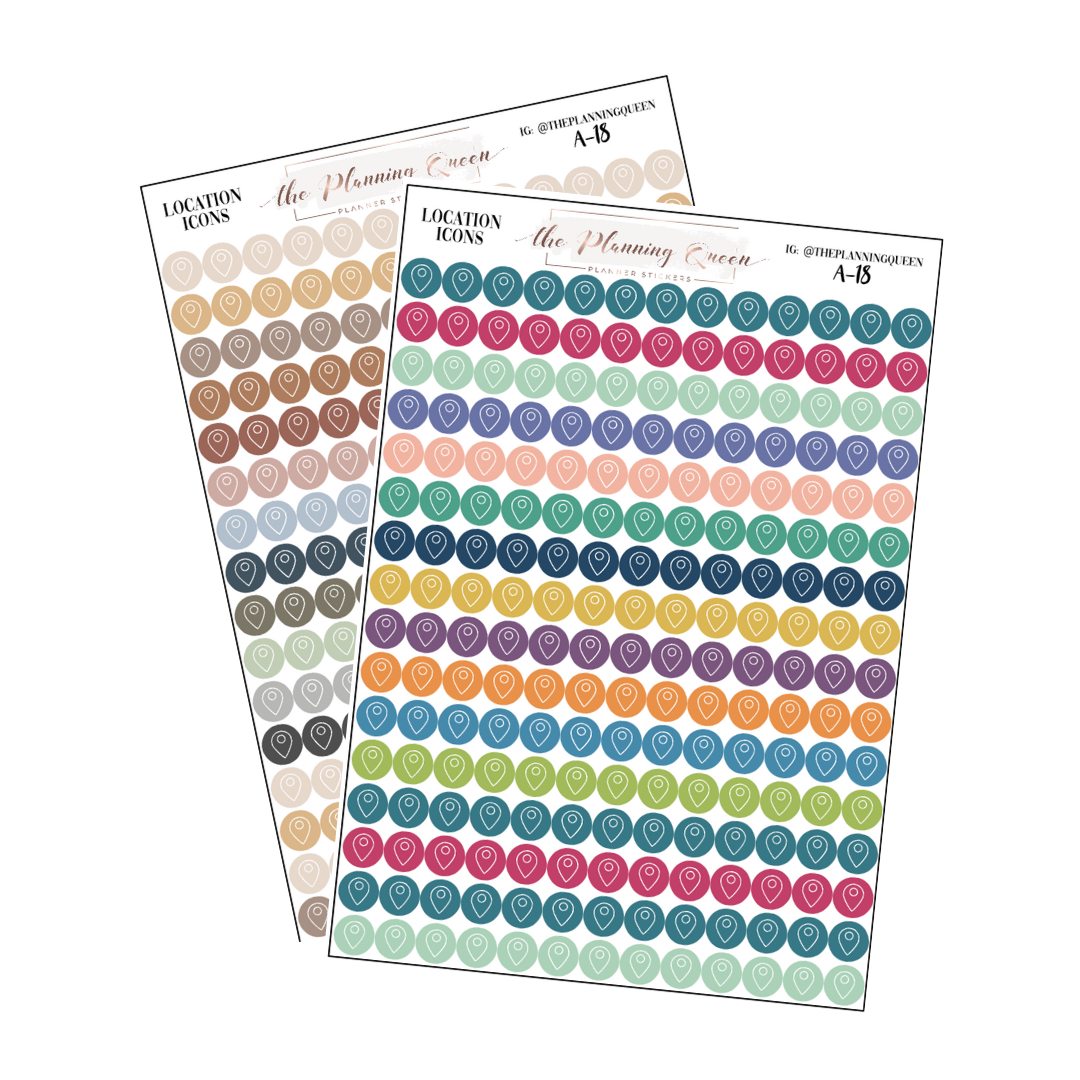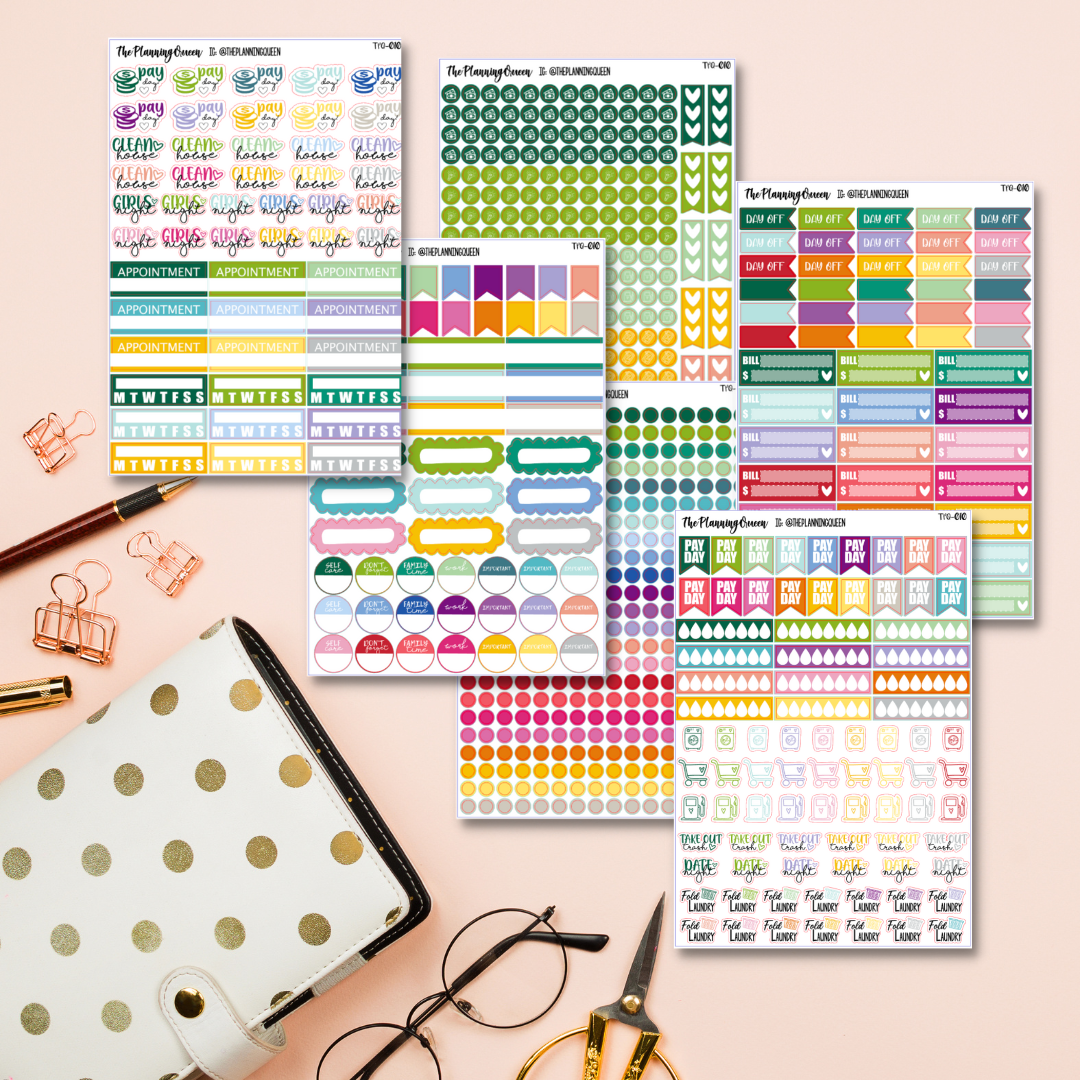 Perfect stickers for your planner.
With multiple 5 star ratings on Amazon these stickers are sure to please!
Free Shipping on Orders of $20 or more for US and $50 or more international.

Use code "Free20" at checkout for US orders.

Use code "Free50" at checkout for international orders.

Return Policy

Due to the nature of the product we do not allow returns however if you email tplanningqllc@gmail.com with pictures and any questions or concerns I will be happy to work with you and find the perfect solution.