Office Closed Reminder Stickers, Stickers for Office Jobs, Work Reminder, 9-5 Job Stickers, Planner Stickers for Adults, Calendar Stickers, Reminders, 162 Stickers
Office Closed Reminder Stickers, Stickers for Office Jobs, Work Reminder, 9-5 Job Stickers, Planner Stickers for Adults, Calendar Stickers, Reminders, 162 Stickers
Regular price
Sale price
$5.99 USD
Unit price
per
Sale
Sold out
Introducing our Office Closed Reminder Stickers, the perfect companions for individuals working in office settings, ensuring seamless organization and effective time management. Designed to enhance your planner or calendar, these stickers are thoughtfully crafted to cater to the demands of office jobs, work schedules, and the 9-5 grind. With 162 stickers spread across two sheets – one neutral and one colorful – you'll have a versatile range of options to choose from. These stickers act as visual cues, gently nudging you to remember crucial tasks, meetings, and deadlines. Whether you're juggling numerous projects or striving to maintain a work-life balance, these planner stickers are your secret to streamlined planning. The neutral sheet lends a professional touch, ideal for corporate environments, while the vibrant colors on the second sheet bring an element of creativity and playfulness to your workspace. Never again miss a day off or an office closure. Our stickers dedicated to office closures serve as clear indicators that a particular day is non-operational. This ensures you're always aware of upcoming holidays or maintenance days, preventing any last-minute surprises. Beyond their functional utility, these stickers are designed with aesthetic in mind. Crafted to seamlessly blend into any planner layout, they add a visual dimension to your calendar, making it not only functional but also visually pleasing. Geared towards adults in diverse professions, these stickers are a must-have for anyone navigating the dynamics of a busy office environment. From project managers to executives, these stickers cater to a wide range of roles, helping everyone stay organized and in control. Merge the precision of work reminders with the artistry of color-coded organization. Our dual-sheet offering provides you the freedom to choose between a classic, understated look and a more vibrant, energetic approach, ensuring your planner resonates with your personal style.
Materials

Removable Matte Sticker Paper
Shipping & Returns

Shipping is 1-3 business days.

Returns are not accepted due to the nature of the product, however I will work with you to find the perfect solution!
Dimensions

Sticker sheets are 5"x7".
Share
View full details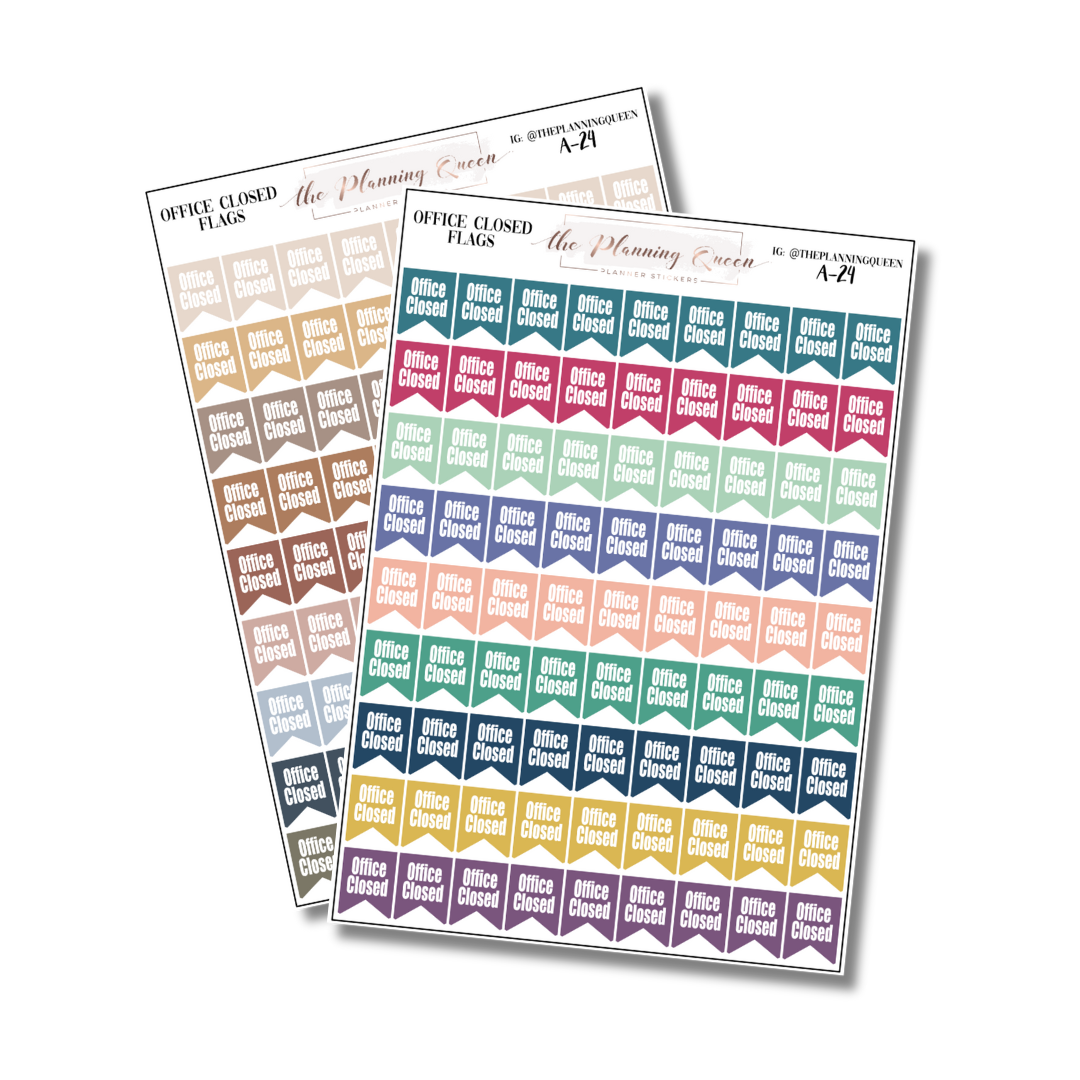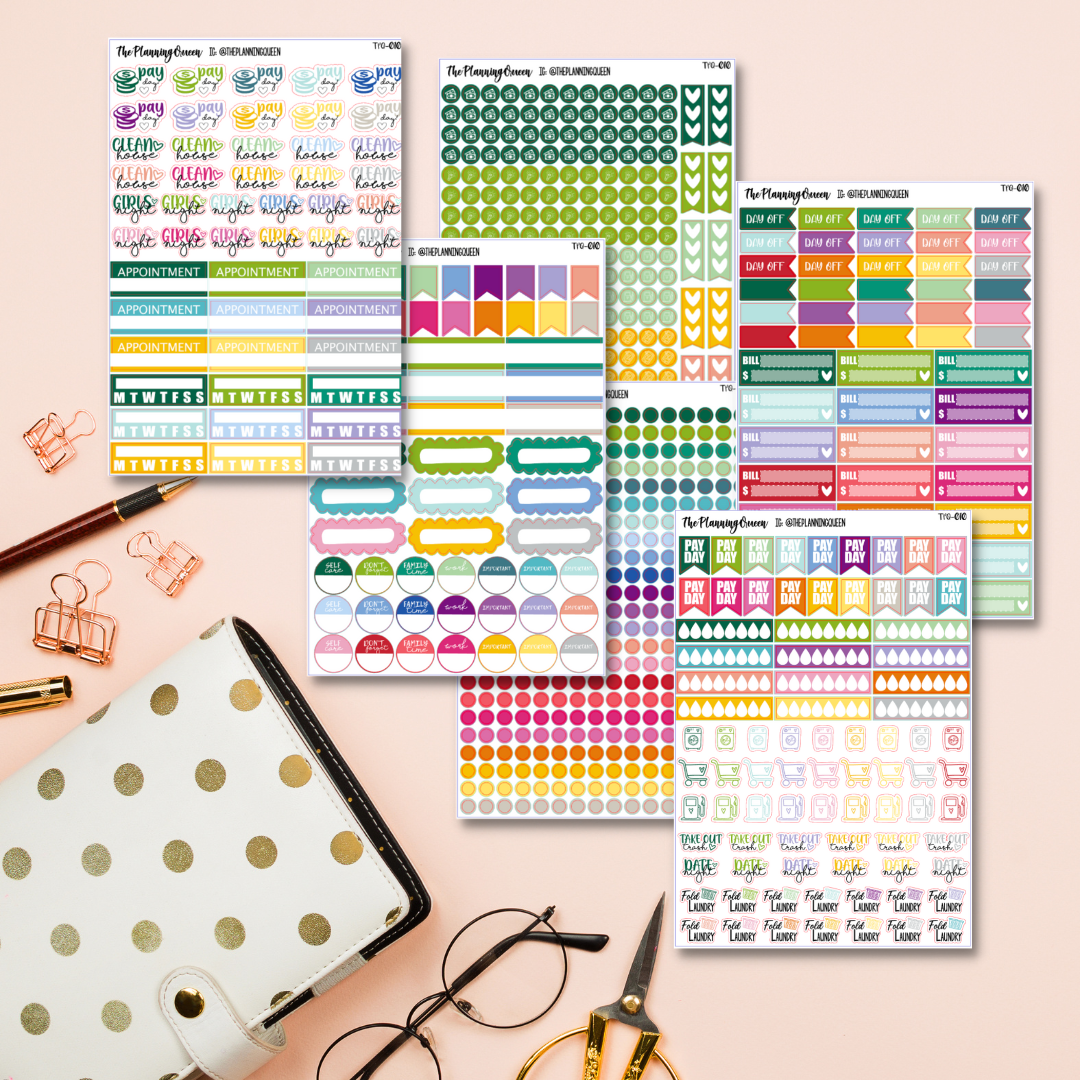 Perfect stickers for your planner.
With multiple 5 star ratings on Amazon these stickers are sure to please!
Free Shipping on Orders of $20 or more for US and $50 or more international.

Use code "Free20" at checkout for US orders.

Use code "Free50" at checkout for international orders.

Return Policy

Due to the nature of the product we do not allow returns however if you email tplanningqllc@gmail.com with pictures and any questions or concerns I will be happy to work with you and find the perfect solution.