Weekly habit stickers, Sidebar Habit Tracker Stickers, Function Label Planner Stickers, Teacher Planners and Home School, Habit Trackers for Chore Tracking and Medication Reminders, 66 Stickers
Weekly habit stickers, Sidebar Habit Tracker Stickers, Function Label Planner Stickers, Teacher Planners and Home School, Habit Trackers for Chore Tracking and Medication Reminders, 66 Stickers
Regular price
Sale price
$5.99 USD
Unit price
per
Sale
Sold out
1. **Weekly Habit Tracker Stickers:** Elevate your planning with these stickers designed to help you achieve personal growth through consistent habit tracking. Stay accountable and cultivate positive routines. 2. **Sidebar Habit Tracker Stickers:** Boost productivity and balance with these stickers that seamlessly fit into your planner's sidebar. Empower yourself to make progress towards your goals. 3. **Function Label Planner Stickers:** Streamline your planning process with purposeful labels for tasks and goals. Experience a more efficient and focused planning journey. 4. **Teacher Planners and Home School Helpers:** Empower educators with specialized planners for organized teaching and dynamic learning experiences, whether in classrooms or homeschooling. 5. **Chore Tracking and Medication Reminder Stickers:** Master your routine with stickers that assist in chore tracking and medication reminders. Take control of your daily tasks and health routines. 6. **Colorful & Neutral Planner Stickers:** Infuse life into your planner with 66 stickers across two sheets. Customize your organization with vibrant or neutral designs. 7. **Habit Tracker and Reminder Stickers:** Maximize productivity with stickers designed to boost habits and remind you of important tasks. Optimize your time and accomplish more. 8. **Weekly Habit Stickers:** Cultivate consistency and achieve your goals with these stickers tailored for tracking habits and fostering positive routines. 9. **Comprehensive Planner Stickers:** Simplify your life with stickers that cater to all your planning needs. Efficiently manage work, family, health goals, and more. 10. **Chore and Medication Habit Stickers:** Embrace balanced living with stickers that integrate chores and medication tracking. Stay organized and mindful of your daily tasks.
Materials

Removable Matte Sticker Paper
Shipping & Returns

Shipping is 1-3 business days.

Returns are not accepted due to the nature of the product, however I will work with you to find the perfect solution!
Dimensions

Sticker sheets are 5"x7".
Share
View full details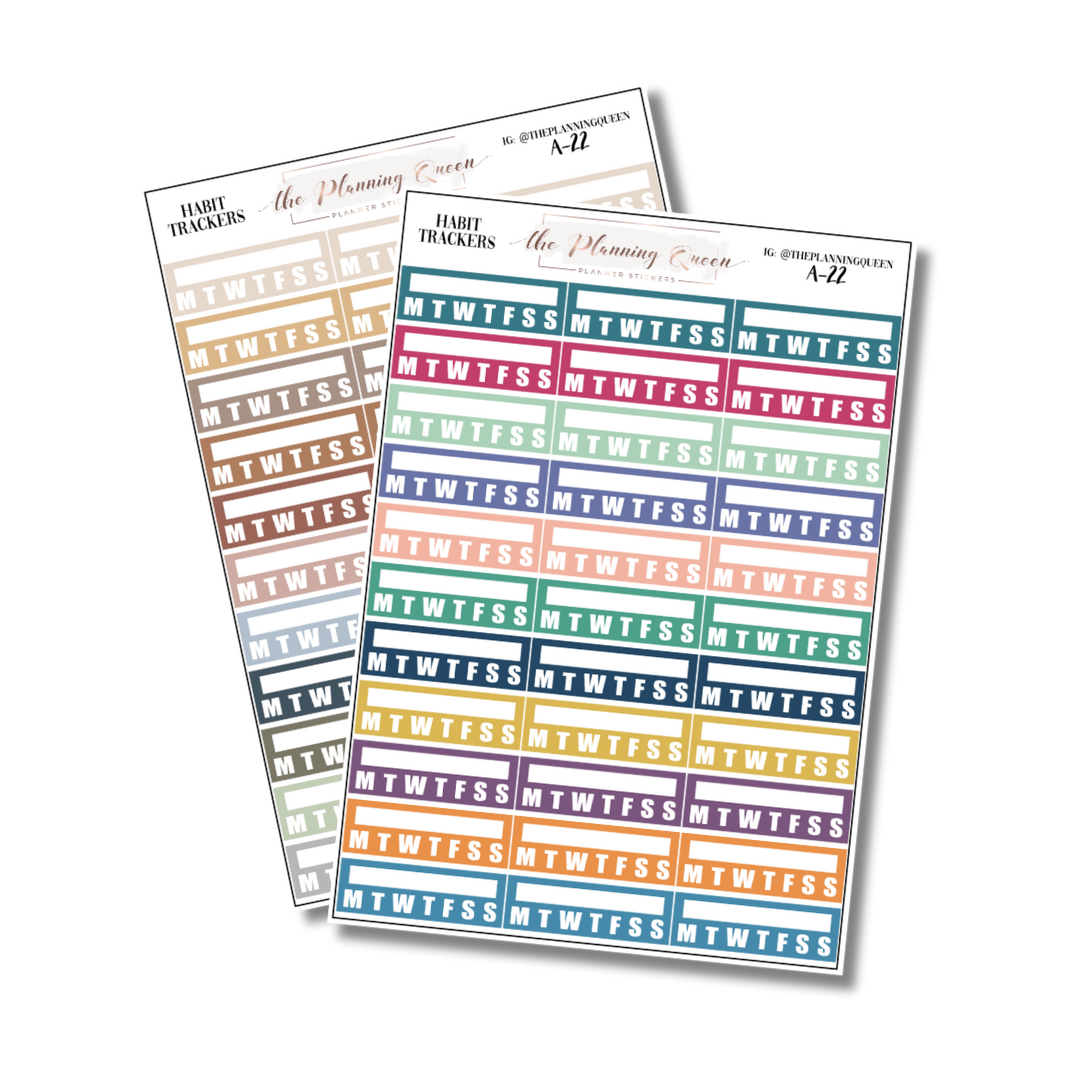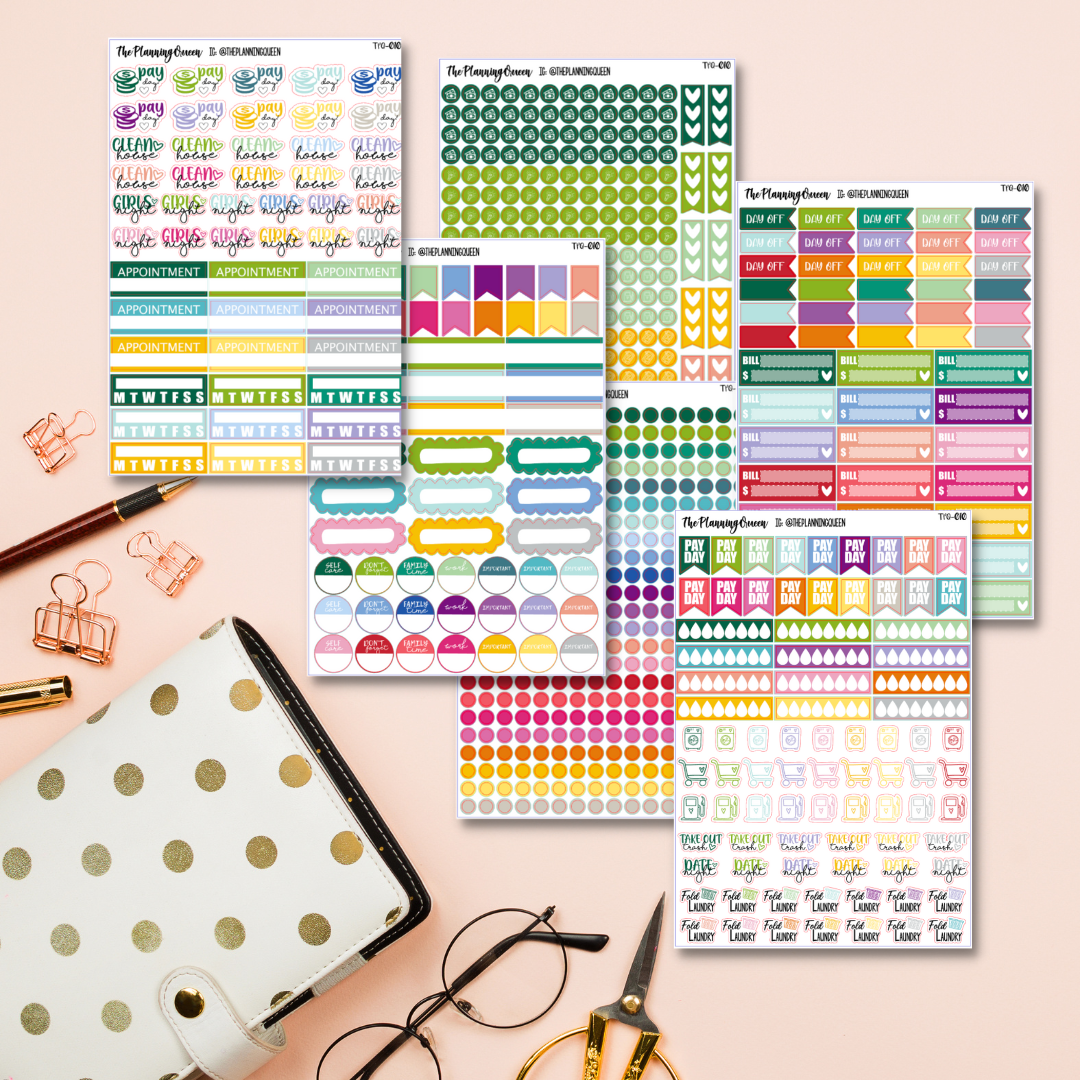 Perfect stickers for your planner.
With multiple 5 star ratings on Amazon these stickers are sure to please!
Free Shipping on Orders of $20 or more for US and $50 or more international.

Use code "Free20" at checkout for US orders.

Use code "Free50" at checkout for international orders.

Return Policy

Due to the nature of the product we do not allow returns however if you email tplanningqllc@gmail.com with pictures and any questions or concerns I will be happy to work with you and find the perfect solution.