Work Out Planner Stickers, Health and Wellness Planner Stickers for Calendars and Journals, Fitness Flags, Gym Work Out Reminders, Fitness Tracking, 200 Stickers, Exercise Stickers
Work Out Planner Stickers, Health and Wellness Planner Stickers for Calendars and Journals, Fitness Flags, Gym Work Out Reminders, Fitness Tracking, 200 Stickers, Exercise Stickers
Regular price
Sale price
$5.99 USD
Unit price
per
Sale
Sold out
Introducing our dynamic and versatile Workout Page Flag Planner Stickers - a perfect blend of motivation and organization to elevate your fitness journey! With a total of 200 stickers spread across two pages, these stickers are designed to seamlessly integrate into your planner, bringing both vibrancy and subtlety to your workout planning. **Page 1: Colorful Energetic Vibes** Get ready to infuse your planner with a burst of energy and enthusiasm! Our first page of Workout Page Flag Planner Stickers features a vibrant and exciting assortment of 100 stickers. From bold motivational phrases to eye-catching icons representing various exercises and activities, these stickers will make planning your workouts a delightful experience. The color palette is carefully curated to spark excitement, keeping you engaged and focused on your fitness goals. **Page 2: Neutral Balance and Elegance** For those who prefer a more understated approach, our second page of Workout Page Flag Planner Stickers offers a collection of 100 stickers in a neutral and elegant color scheme. These stickers are designed to seamlessly integrate into any planner layout, allowing you to maintain a sense of sophistication while organizing your fitness routines. With subtle shades and clean designs, you can effortlessly mark your workout sessions, track your progress, and set achievable goals. **Why Choose Our Workout Page Flag Planner Stickers?** - **Motivational Boost:** Whether you're tackling an intense workout or indulging in self-care, our stickers offer motivational phrases that remind you of your determination and commitment. -**Organization Made Stylish:** Stay on top of your fitness game with a well-organized planner that reflects your personal style and preferences. -**Versatile Planning:** From cardio to strength training, these stickers cover a wide range of exercises, enabling you to create a comprehensive fitness schedule.
Materials

Removable Matte Sticker Paper
Shipping & Returns

Shipping is 1-3 business days.

Returns are not accepted due to the nature of the product, however I will work with you to find the perfect solution!
Dimensions

Sticker sheets are 5"x7".
Share
View full details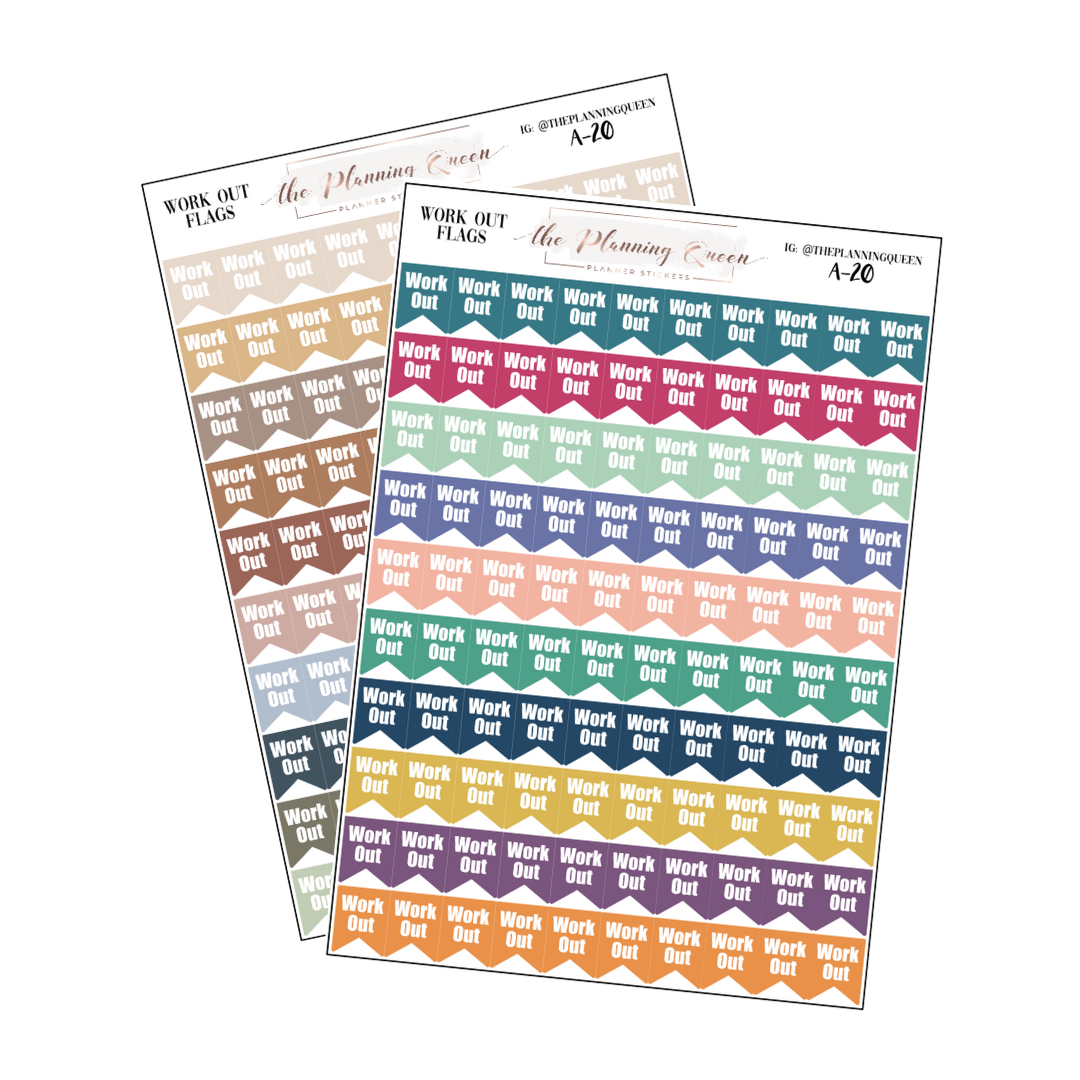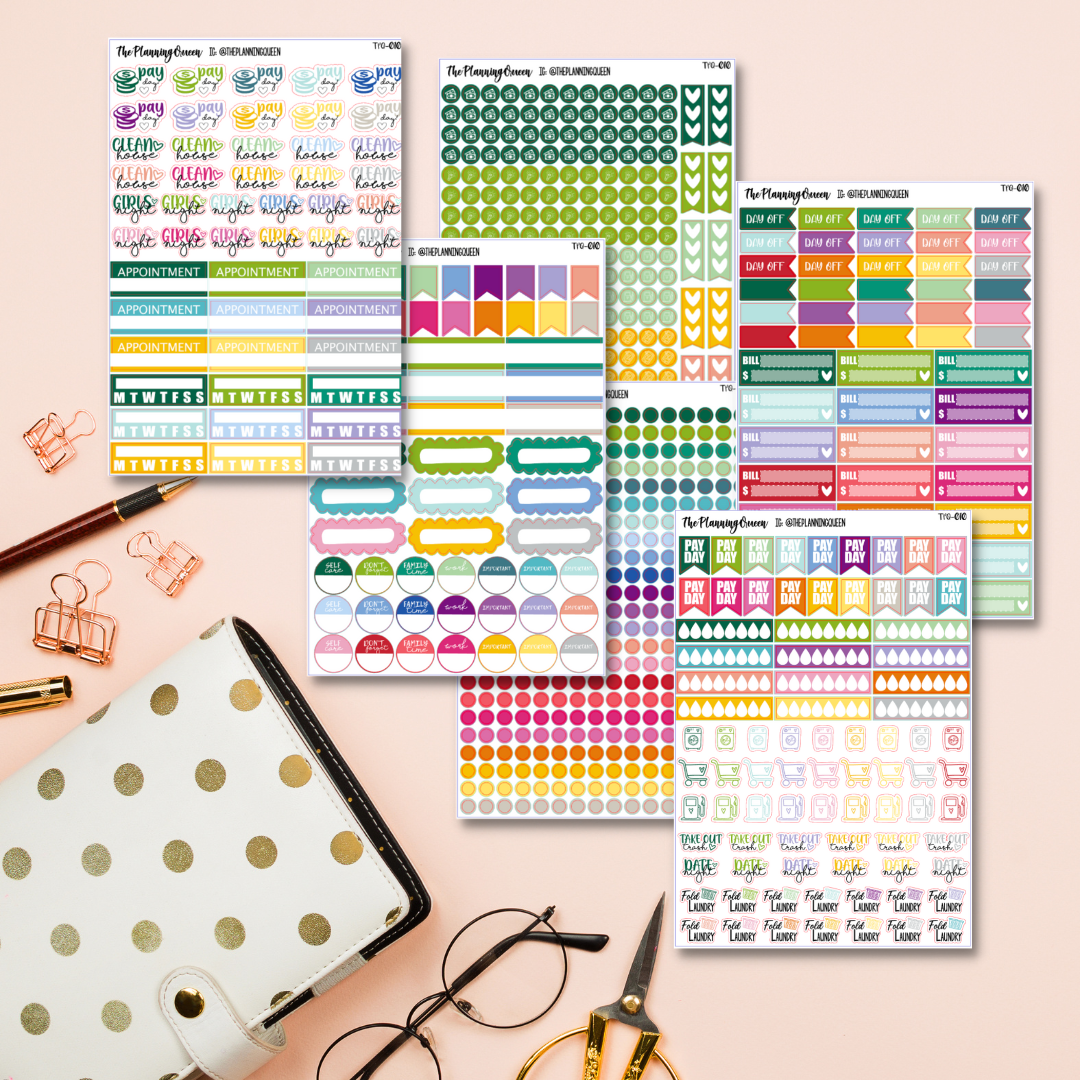 Perfect stickers for your planner.
With multiple 5 star ratings on Amazon these stickers are sure to please!
Free Shipping on Orders of $20 or more for US and $50 or more international.

Use code "Free20" at checkout for US orders.

Use code "Free50" at checkout for international orders.

Return Policy

Due to the nature of the product we do not allow returns however if you email tplanningqllc@gmail.com with pictures and any questions or concerns I will be happy to work with you and find the perfect solution.