Work Tracking Stickers, Daily Work Schedule Stickers, Planner Stickers, Functional Planner Stickers, Work Schedule Stickers, 96 Stickers, 1.5" in length, Multicolor
Work Tracking Stickers, Daily Work Schedule Stickers, Planner Stickers, Functional Planner Stickers, Work Schedule Stickers, 96 Stickers, 1.5" in length, Multicolor
Regular price
Sale price
$5.99 USD
Unit price
per
Sale
Sold out
Introducing our Work Tracking Planner Stickers Set – a must-have organizational tool designed to elevate your productivity and enhance your planning experience. This set includes two meticulously crafted sheets of stickers, featuring 48 stickers each, thoughtfully designed to cater to your diverse work-tracking needs. The first sheet embraces the elegance of neutral tones, offering a sophisticated touch to your planner or calendar. These stickers are perfect for the minimalist at heart, providing a seamless integration into any layout. From subtle checkmarks to discreet task labels, these stickers offer a refined way to monitor your progress, mark important deadlines, and track the completion of essential tasks. For those who revel in vibrancy and variety, the second sheet boasts an array of multicolored stickers that inject energy into your planning routine. These stickers are ideal for highlighting priorities, categorizing tasks, and adding an element of fun to your planning process. With a diverse palette at your disposal, you can easily assign colors to different projects, client meetings, personal errands, and more. Both sheets are crafted with precision and care, featuring a peel-and-stick design that adheres effortlessly to your planner, journal, or calendar pages. The stickers are thoughtfully sized to ensure they fit seamlessly within the confines of your planning grids, leaving ample space for notes and details. Whether you're a seasoned professional, a busy parent, or a student juggling multiple commitments, these stickers are your trusty companions in keeping your life organized and your goals within reach. With a total of 96 stickers across two sheets, this set provides an abundance of options to meet your unique planning requirements. From daily to-do lists to long-term project milestones, our Work Tracking Planner Stickers empower you to visualize your tasks, make progress tangible, and celebrate accomplishments.
Materials

Removable Matte Sticker Paper
Shipping & Returns

Shipping is 1-3 business days.

Returns are not accepted due to the nature of the product, however I will work with you to find the perfect solution!
Dimensions

Sticker sheets are 5"x7".
Share
View full details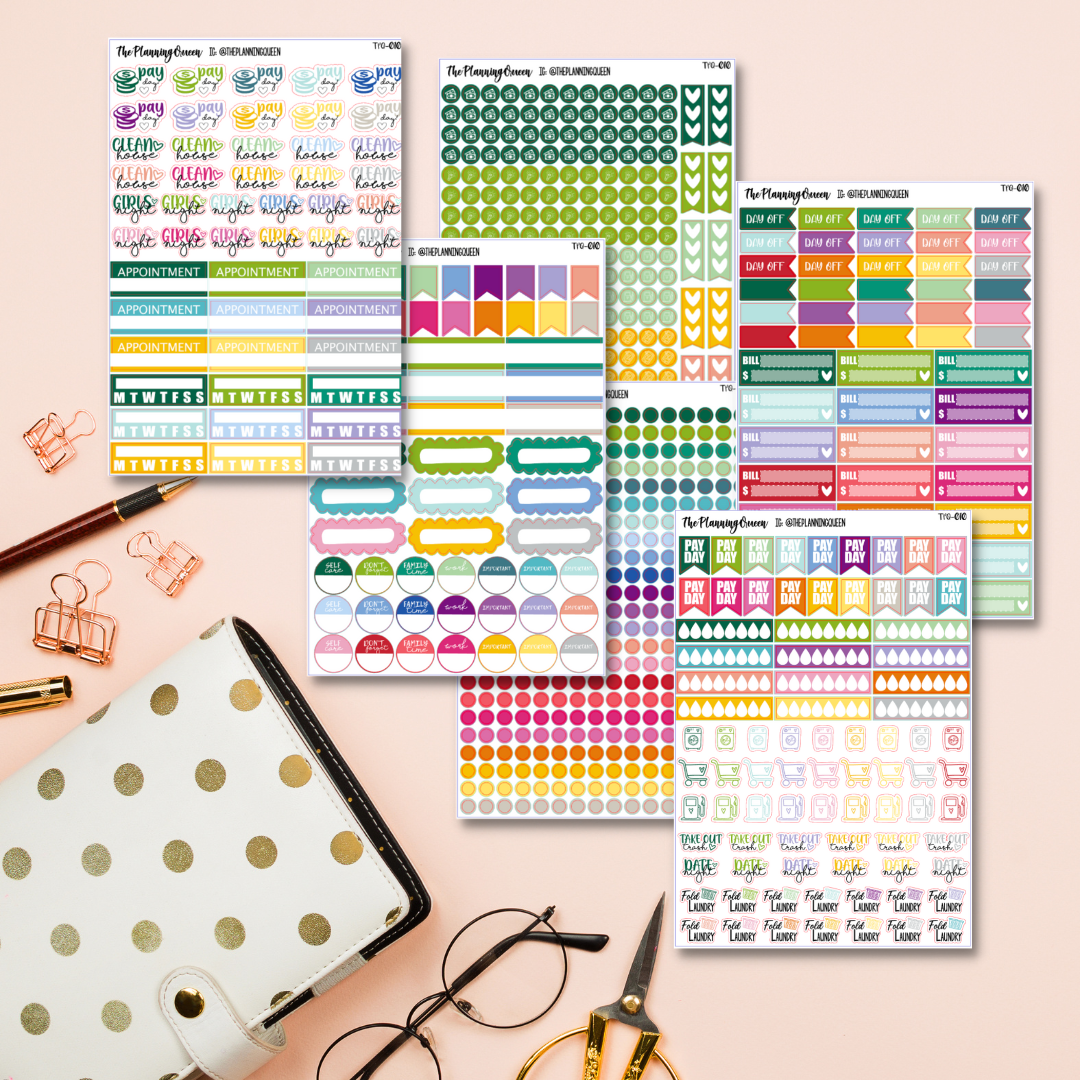 Perfect stickers for your planner.
With multiple 5 star ratings on Amazon these stickers are sure to please!
Free Shipping on Orders of $20 or more for US and $50 or more international.

Use code "Free20" at checkout for US orders.

Use code "Free50" at checkout for international orders.

Return Policy

Due to the nature of the product we do not allow returns however if you email tplanningqllc@gmail.com with pictures and any questions or concerns I will be happy to work with you and find the perfect solution.